Why dose she always stare at me with lovely eyes..
Funpaw thinking about the deputy MossClan, Roleplay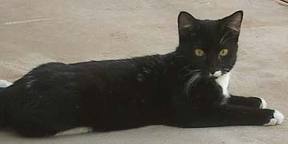 Funpaw is a black tom with blue eyes and grey stripes.
Apprentice of MossClan
Fun was born to Sunny and Blacky(Blackystar) with two siblings Hawk and Bettle. In the middle of leaf-bare.
At the age of 4 moons old he was sepated by a flood. He was found by Jaystar and Gingertail.
Two moons later he became an apprentice to Jaystar.
Personality
Edit
His warrior name will be Funstripe.
He and Gingertail will be mates.
He will be a furture Leader.